High Point Market, Spring 2019!
Oh what a week!
While we are exhausted, we are also really energized by what we saw and experienced. From incredible product launches to an overwhelming enthusiasm toward design professionals, this Market was special. And while we know we cannot capture everything that happened, here are a few highlights.
Steelyard Was Everywhere:
Yes, yes we were! You could not miss us this Market and we hope you didn't! Here are a few pictures from our kickoff at The Point on Friday, our Designer's Lounge at 200 Steele, our roving Steelyard Trolley, and with our brand partners at some amazing events!
Furniture Today hopped on the Steelyard Trolley, check out the interview:
From Trolley Talks to Celebrity Designers to Brand Decorations to CornHole @ The Point to Steelyard Panels to getting to the right places at the right time, everyone who hopped on The Steelyard Trolley had a little fun, met some great folks and added to their HPMKT experience!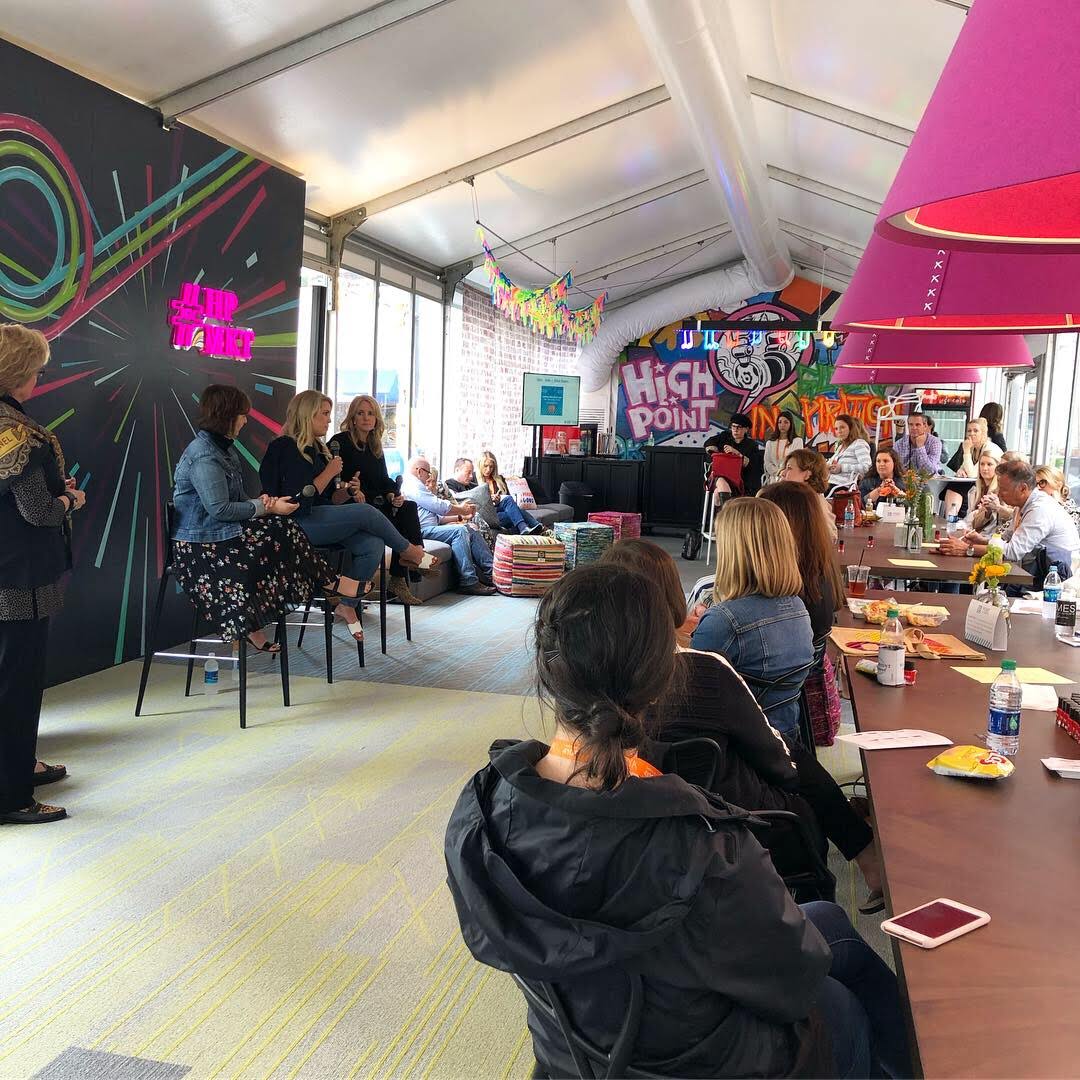 The Steelyard Roundtable on Friday had Christi Barbour of Barbour Spangle Design, Vicky Serany of Southern Studio Interior Design and Bria Hammel of Bria Hammel Interiors sharing their expertise on the higher-level Market experiences that you can't find by reading a map or wandering IHFC. They told where to find those hidden gems often missed, how to connect to the influencers and thought leaders, how to understand and conquer the eight essential neighborhoods, and how to find vendors who will keep you profitable and protect your business. No matter how many times you've been to Market, it continues to evolve—there's always something new! We learned a lot! Thanks to all!
Hidden Gems …
We spent a lot of time leading up to Market talking about stepping outside of the normal Market experience and finding the hidden gems. And our incredible panelists spent even more time on that topic during our Roundtable at The Point.
While we can't possibly list all of our discoveries, nor pretend we found them all, here are some of the best we found this Market.
Phillips Collection Warehouse: we did mention this one leading up to Market, and we have to bring it up again because it lived up to the hype. We spent some time there on Friday morning, and we left in awe (and with a few new friends - see below!). The Phillips family is seriously special, and you need to get to know them. Check out their full catalog on Steelyard too.
Plant Seven: didn't make it to Plant Seven or have no idea what we are talking about? Welcome to the classic hidden gem! Self described as a new center for design, culture and innovation, this place rocks. Plus we found some of the coolest artisans at Market calling this place home. Check it out.
Facets Collection by Kindel: at Fall Market, Kindel Grand Rapids launched their Facets Collection and we drooled over it. In fact, we talked all about it in that Market's recap. But what we didn't expect as we ventured to their showroom this time was that it would be even better. You NEED to check out what they are doing with this collection. See it on Steelyard here.
525 N Wrenn: oh, it's so far away! How could I ever get all the way up to 525 N Wrenn? Well, lots of ways if you had asked us! It's stop 22 on the Red Line, they have their own shuttle driven by the amazing Keith, and the Steelyard Trolley stopped there daily. But here's the deal - this building is a hidden gem that should not be hidden. With Tomlinson Companies and Selva in the house, you will be awe-struck. Plus their showroom design team - Allen & James - outdoes themselves every single Market. Get there next time...trust us! (The building is open all year as well, btw)
Itinerant Studio: while we don't like to air dirty laundry, there was literally an argument among the Steelyard team about who got to attend the block printing demo put on by Itinerant Studio. Tom and Vicki are some of our fav people in the industry, and they knocked it out of the park with these demos. And we know it is sometimes hard to find your way around Suites at Market Square, but if you didn't at least try or make it to see these incredible photographers and artists, you can check out their full catalog on Steelyard.
Showing Designers Love:
Vanguard: if you want to know how eager Vanguard was to introduce themselves to designers this Market, look no further than their front door. They completely renovated the entrance to their showroom to be more welcoming and inviting to the design community. And we felt the love! We even parked the Steelyard Trolley right up on their curb on Sunday morning while they hosted a special breakfast for designers. And, oh yeah, they gave out hundreds of bottles of nail polish to celebrate their Golden Jubilee! Didn't see them, they will be up on Steelyard soon!
Rizzy: we know everyone is out late on Saturday night enjoying all of the parties (count us as guilty!), but Rizzy rose with the sun and put on a special breakfast for designers on Sunday morning. They were welcoming, engaged, and, oh yeah, they gave Steelyard members a special deal. If you didn't go see them, check them out on Steelyard and tell them you want some of that designer love!
Essentials for Living: don't tell us you missed out on another special Steelyard deal with Essentials? At Market, they rolled out a special offer for all Steelyard members: 10% off new orders through the end of May. Don't worry, they love you enough to give you the deal even if you didn't see them at Market. Just check out their full catalog on Steelyard and message them by the end of May. They've got you!
New Collections
Luc by Oly: we are sort of in love with Oly Studio...well, not sort of, we are! So count us among the shocked when we were walking through Interhall and saw some of our Oly friends. Meet Luc...their latest introduction to the designer-friendly business they have built. Check out everything they offer here.
Alexa Hampton for Theodore Alexander: we have so much more to say about this, but wow! Just wow! We spent a lot of time at TA checking out what Alexa designed, and we are still in awe. While it isn't yet up on Steelyard, it will be soon. Stay tuned and check out what is on Steelyard here.
Okay, this is just Round 1 of the Steelyard High Point Market Recap! So much more to come, but feel free to let us know what your Market experience was like, including your new favs and hidden gems. We love to hear from you! Email us at memberservices@steelyardaccess.com.